In partnership with the Seattle Department of Transportation, Commute Seattle hosted the annual Parking Management Seminar for property managers implementing Transportation Management Programs (TMPs) in buildings across Seattle. The online seminar featured speakers from both the public and private sector and focused on parking strategies beyond typical car storage:
Update on the forthcoming TMP Director's Rule
SDOT Bicycle Parking Guidelines
Forth Workplace Charging Toolkit
Guest Interview with Allison Delong, a General Manager at Tishman Speyer
Continue reading to find a summary and key resources.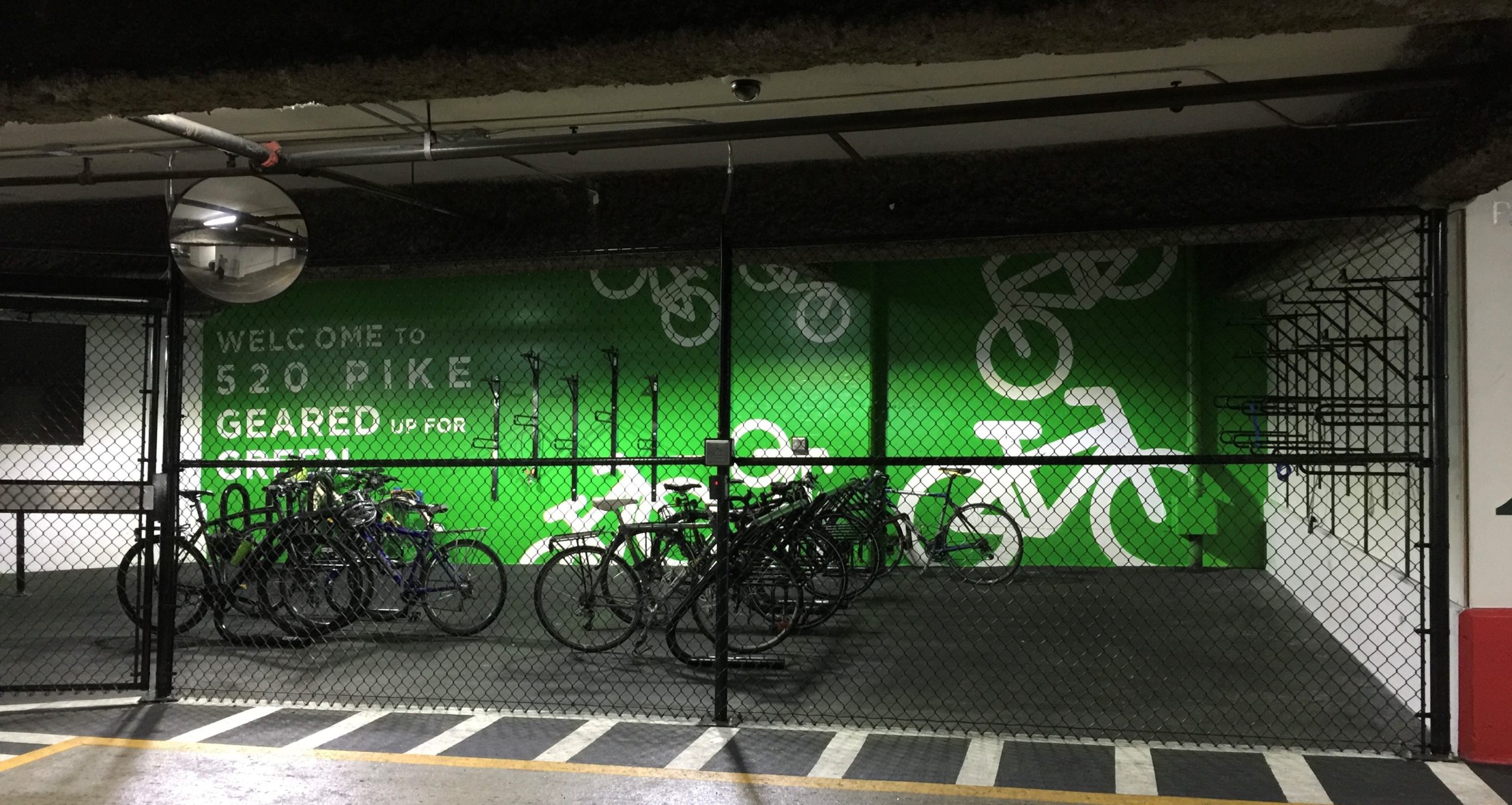 Photo by Tishman Speyer 520 Pike Tower
TMPs are established through a development's Master Use Permit process and include several elements meant to reduce single-occupancy travel to and from the building. Ben Rosenblatt, a Senior Transportation Planner with SDOT, provided a key update on the new Joint Director's Rule which will apply to new developments. The new Rule not only helps clarify when a TMP is required, but also accounts for new modes like Uber, Lyft, and dockless shared mobility like Lime/Jump bikes and scooter share. Additionally, the new Rule provides a consolidated list of parking management elements.
A recent Sightline article "Verified: More Parking Puts More Cars on the Road" draws on the idea "if you build it, they will come." Managing and minimizing vehicle parking supply is a critical element in achieving a building's required drive-alone rate goal. Building Transportation Coordinators (BTCs) and parking managers should rely on strategies like flexible parking pricing and should strive to avoid all-day or long-term parking rates. Daily market-level parking rates are the standard and required in most TMPs. In the near term, offering daily and short-term parking rates will be critical to people returning to the office 1 or 2 days a week. If a building only has monthly parking rates, many people will not want to commit to a full month of parking if they are only in the office four days a month. Daily parking = daily choices. Reach out to Commute Seattle for assistance.
Bicycle sales are through the roof and e-bike sales are rising like never before. We expect new riders to continue riding and opt for a socially distant and healthy commute as they return to physical work locations. Wyatt Hoffman, an Associate Planner at SDOT, focused on why now is the time to think about your building's bicycle parking capacity and the nuances that come with new mobility: e-bikes are heavy to lift for vertical storage! Use the new Bicycle Parking Guidelines developed by SDOT to see the good examples of bicycle parking, the places that people want to leave their bike all day. And find examples of the 'not so good' bicycle parking that does not make it any easier on a rider.
While you may not be ready to fully upgrade your bike room, you may consider how a little paint can brighten up your space and make it more inviting to guests. Paint the walls of your bike room bright green or add wayfinding signage to help people find it. Another affordable option is converting vehicle parking spaces into bicycle parking – changes like these will help sway behavior away from driving and towards bicycling both during recovery and beyond. Reach out to Commute Seattle to get started.
As gasoline-powered vehicles become a relic of the past, it is critical for property and building managers to accommodate more space for EV and Green vehicles. Kelly Yearick, a Program Manager at Forth, highlighted key elements from their Workplace Charging Toolkit and noted that 30% of current EV drivers are without access to home charging. Property managers should leverage this to add EV charging stations in their buildings and managing them effectively to provide an additional source of revenue to support sustainable transportation programs.
Accommodating multi-modal options in parking facilities is not only good for business but it is also what tenants expect, as noted by Allison Delong in the webinar's guest interview. Modern tenant amenities and encouraging tenants to make sustainable transportation choices is what will keep a building competitive in Seattle's market, especially during COVID recovery as bicycling and other micromobility choices will likely become more popular.
Stay tuned for our spring programs focused on Bike Month, shared mobility, and return to office planning!
View the recording on YouTube or download the full seminar presentation.