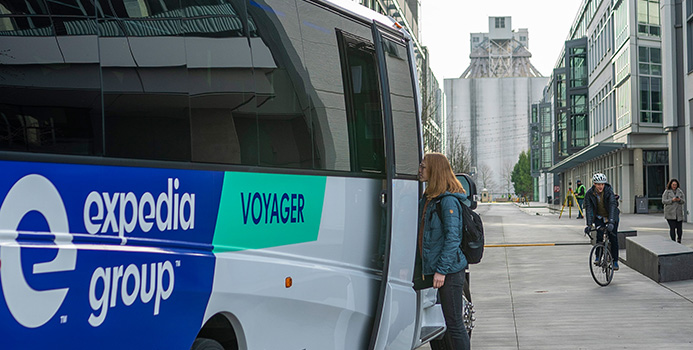 Congratulations to Expedia Group for publishing a case study on their relocation to Seattle's Interbay neighborhood from Bellevue, WA! After the move was announced in 2015, Expedia Group hired Nelson\Nygaard to build a flexible employee commute program that emphasized daily choice, sustainable modes, and data driven decisions. Employees completed their move to the new Seattle campus in 2020 just before prolonged work-from-home due to the global pandemic. Prior to mandatory work-from-home, EG saw a 47% drop in their employee drive-alone rate and doubled the number of employees biking and walking to work. How you might ask? An excellent commute philosophy!
With a foundation grounded in flexibility and choice, EG is successfully met its mode share goals and is primed for the future. The programs' foundation is reinforced through clear communication, a balance of incentives (carrots) and disincentives (sticks), and tying the program goals to the company mission. Moreover, the EG Campus Commute team is dedicated to engagement and listening to employees, integrating their feedback quickly into programs– critical for building organizational trust and employee buy-in.
With return-to-work being top of mind, Commute Seattle encourages you to dive into the case study for actions you can implement for your commute program.
Have you penciled out your return-to-work plan? What information have you collected already from employees? Maybe you revisited your 2019 Commute Survey data to see what options employees used pre-pandemic? Have you considered employee retention and talent recruitment in your phased reopening? How can you work with the property manager to improve the door-to-desk commuter experience?
How We Can Help
Not sure where to start? Don't have a dedicated Campus Commute team like Expedia Group? Commute Seattle is here to help! Schedule a free consultation to get rolling today!