Why support bicycle commuting?
Seattle is recognized as one of the top U.S. cities for bicycle commuting. Investments in protected bike lanes, neighborhood greenways, and other bicycle road safety improvements are opening up bicycling to a wider segment of the population. More and more commuters are choosing to ride to work because bicycling is a healthy, affordable, reliable, sustainable, and fun mode of transportation. The rapid growth in bicycle commuting has led to increased tenant demand for high-quality bicycle amenities and services. Findings from Commute Seattle's 2015 bicycle parking inventory study showed a 49% increase in bike parking provided in Downtown worksites since 2010.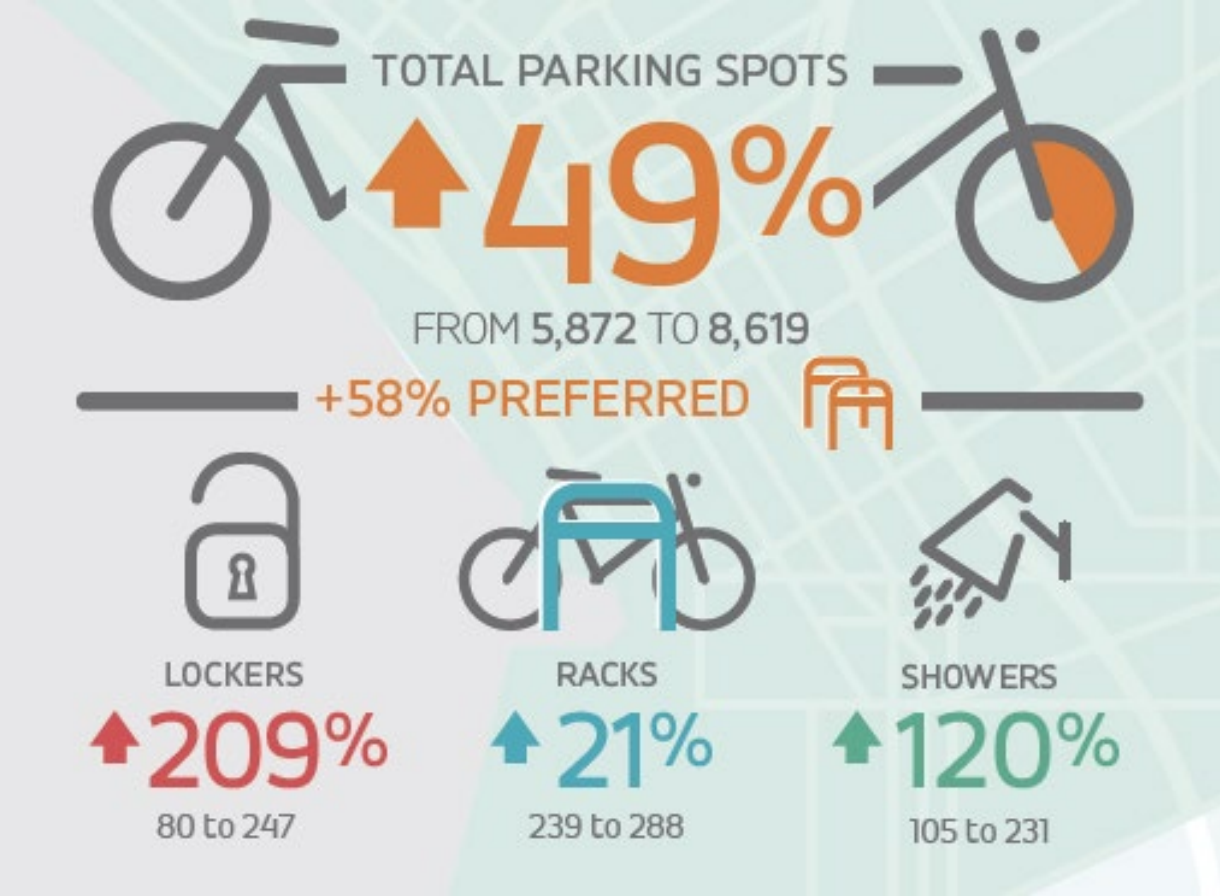 Offering high-quality bicycle amenities and services can help you differentiate your building as a bicycle-friendly destination.
Elements of a successful building bike program could include:
Providing high quality bicycle racks, bicycle lockers, and secured bike rooms that adequately protect bikes from theft, weather and damage
Providing access to showers and lockers or local gym facilities
Providing access to a repair kit with basic bike tools
Scheduling a mobile bike mechanic to visit your building for basic repairs, maintenance, and technical assistance on any bike-related issues
Hosting informative transportation fairs, educational workshops and fun commuter stations to celebrate National Bike Month in May
Encouraging healthy competition between tenants by promoting the Cascade Bicycle Club's Bike Everywhere Month in May and Ride in the Rain Challenge in November.
Offering a "bike buddy" program to connect new riders with experienced riders willing to share bike commuting tips and routes.
Posting bicycle maps and information in bike rooms and information kiosks.
Offering incentives and prizes to bike commuters.
Benefits for Tenants
Getting around by bike is healthy, efficient, affordable, sustainable and fun!
Biking or walking to work is an easy way to incorporate exercise into daily routines.
Bicycle commuters arrive to work more alert and productive, and take fewer sick days.
Offering amenities for cyclists and pedestrians is an effective way to attract and retain employees.
What steps to take in setting up a bicycle program?
A good first place to start is to provide your tenants with the infrastructure they need to become safe bicycle commuters. Offering secure, covered bicycle parking will make your tenants more likely to use their bicycle to get to work.
We offer free consulting services to help property owners and managers plan adding or upgrading bicycle facilities. We work closely with local rack manufacturers, and can provide recommendations on bicycle parking solutions that maximize space efficiency and fit your building's design standards and budget. We can also help you market your investments in bicycle facilities by engaging tenants through workshops, transportation fairs, and educational seminars.
Connect with a Transportation Specialist for free consulting services or learn more about Transportation Management Programs.