If you have commuted to downtown Seattle over the summer, you probably noticed quite a few changes. There are even more planned improvement projects occurring throughout the remainder of the year and we have all the details. We're highlighting all of the upcoming projects how you can prepare your employees for the changes.
Upcoming Seattle Squeeze Impacts:
Final Phase of Viaduct Demolition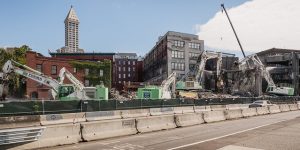 More than half of the Alaskan Way Viaduct has been removed and WSDOT is entering their final phase of demolition. There will continue to be road and lane closures through October. Once the viaduct is removed, construction moves along Alaskan Way to create Seattle's redesigned waterfront. Follow the progress with WSDOT's demolition tracker.
Construction Along Alaskan Way
The city of Seattle is creating a new waterfront including protected bike and pedestrian infrastructure, public park spaces, road changes, new ferry terminals and much more. There will be road construction along Alaskan Way, Elliott Avenue and Columbia Street. Construction of the new waterfront is underway and will continue through 2023. Learn more about waterfront construction.
SR 99 Tunnel Begins Tolling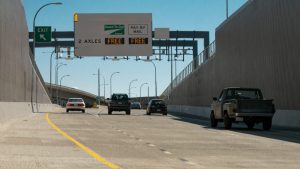 Beginning on November 9, WSDOT will toll the SR 99 tunnel. The cost of using the tunnel will vary depending on the time of day. The toll will range in cost from $1.25 to $4.25. The best way to receive the lowest rate is to use a Good To Go! pass. WSDOT is currently giving out free Good To Go! passes to help you prepare for tunnel tolling. Plan ahead as downtown traffic patterns will change as people will move to surface streets to avoid tolls. Get a Free Good To Go! Pass.
New Bike Lane Additions
The Center City Bike Network south end connections will be built in September to help connect bikers from Chinatown/International District to 2nd Avenue protected lanes.
Fairview Avenue Bridge Replacement
The Fairview Avenue bridge in Eastlake will close for up to 19 months due to construction. The bridge may close as early as September 23. During construction the bridge, located between Eastlake Ave E and Aloha Street, will be closed to vehicles, pedestrians and cyclists. Detours can be made along Eastlake Avenue. Learn more.
Connect 2020

Link Light rail will experience system wide delays and platform changes for three weeks this Fall and for ten weeks in January 2020. This will allow Sound Transit to connect the existing light rail system to the future Eastside line opening in 2023. On the weekends of October 12-13, 26-27 and November 9-10, there will be no light rail service between SODO and Capitol Hill stations. In January 2020, light rail will run at a reduced frequency of every 12 minutes and will require platform transfers at the Pioneer Square station. Follow the project here.
Looking for ways to ease the commute for your employees? Contact our Transportation Specialists for a free consultation. Learn more about the Seattle Squeeze.