In March of 2020, Washington Governor Jay Inslee issued a statewide Stay Home, Stay Healthy proclamation in response to the coronavirus pandemic. In May, Commute Seattle conducted a survey to learn about what workplaces were experiencing as a result of the Coronavirus Pandemic so that we could provide resources to help businesses through this challenging time. Please read on for an overview of the survey results and consider how this information might inform your workplace's plans.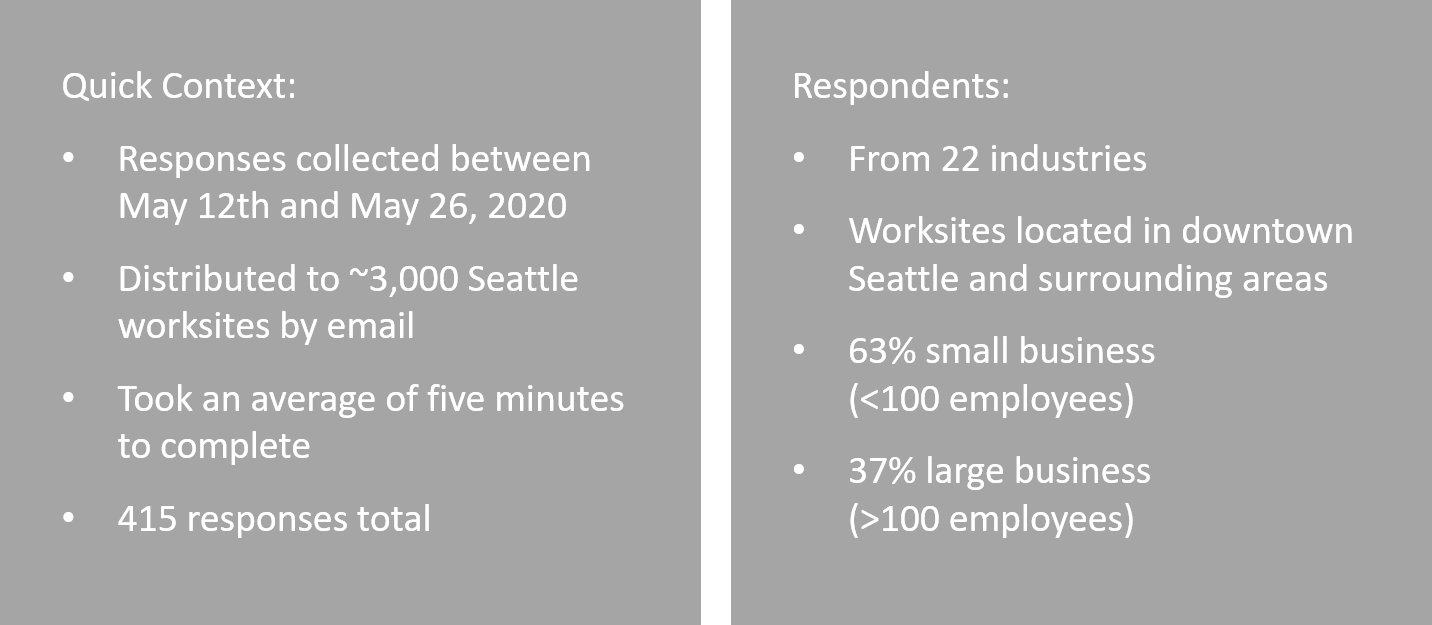 76% HAVE RETAINED MOST OR ALL STAFF
37% HAVE HAD TO FURLOUGH OR LET STAFF GO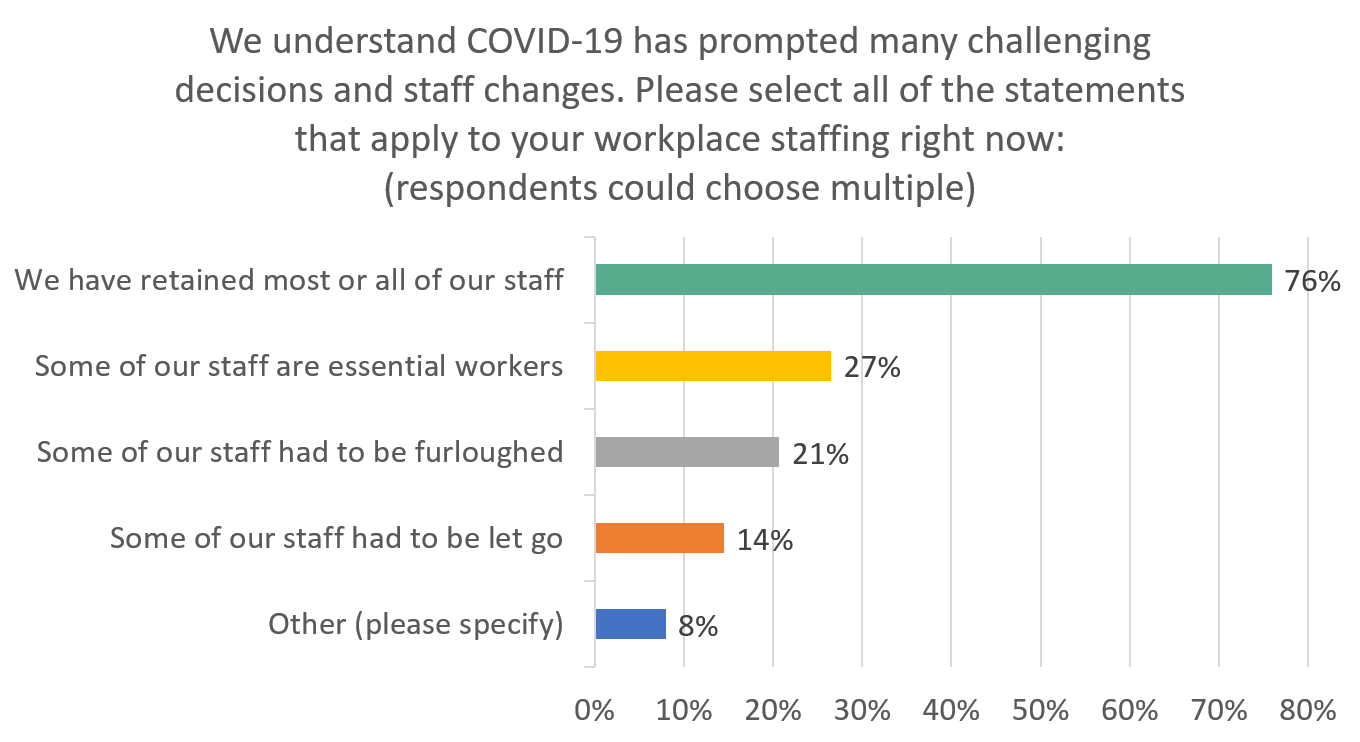 To gain deeper information on the remote work experience, a portion of our survey focused on quantifying what percentage of employees are working remotely, learning about employer's plans for the coming months, and identifying areas for improving the remote work experience.
OF 415 RESPONDENTS, 89% SAID SOME PORTION OF THEIR EMPLOYEES ARE WORKING REMOTELY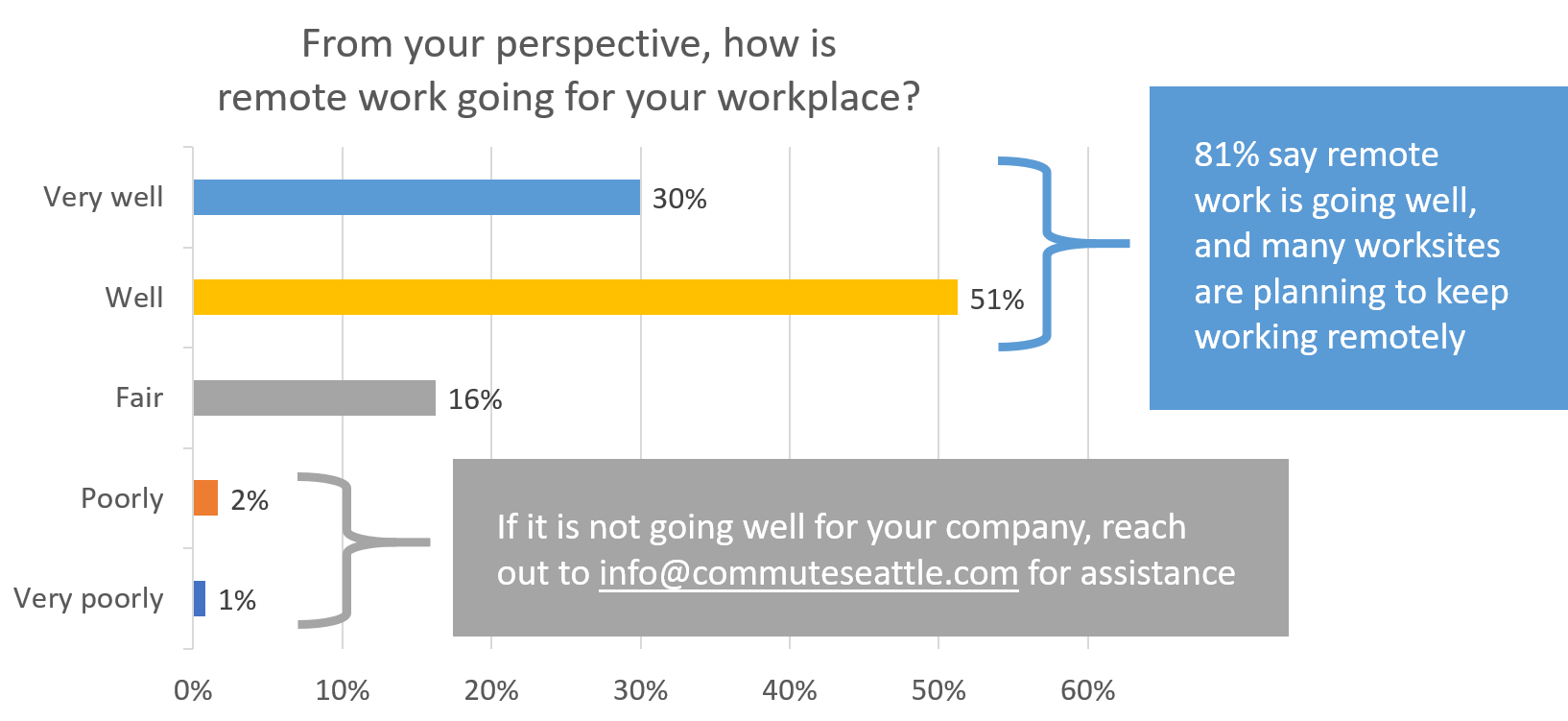 MANY COMPANIES ANTICIPATE AN INCREASE IN REMOTE WORK IN THE LONG TERM
NONETHELESS, IT CAN BE CHALLENGING. WE'RE ALL IN THIS TOGETHER.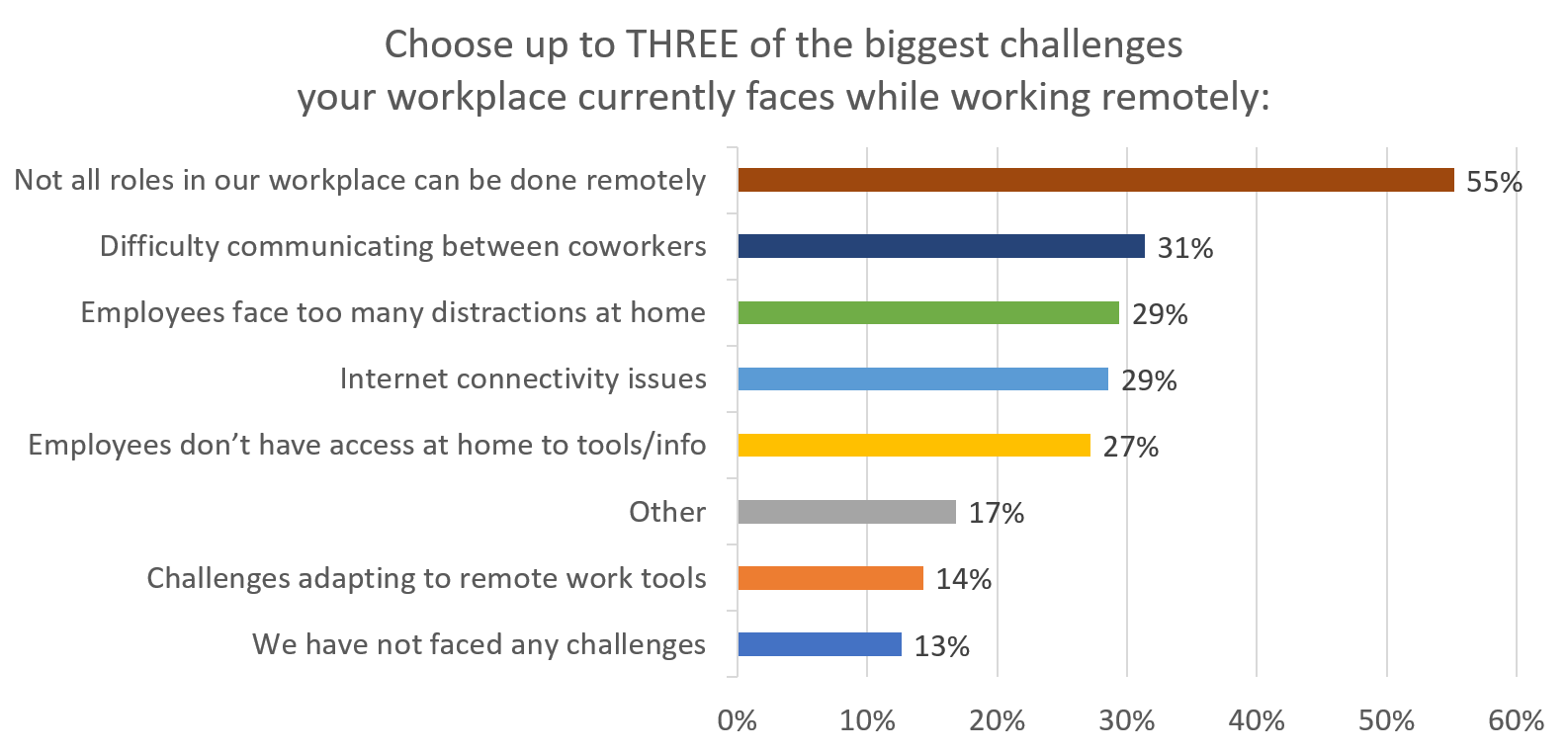 HOW CAN YOUR WORKPLACE THRIVE WHEN WORKING REMOTELY, RATHER THAN JUST GET BY?
NOT ALL EMPLOYEES ARE WORKING REMOTELY; WE'RE SEEING AN INCREASE IN DRIVING FOR THOSE STILL COMMUTING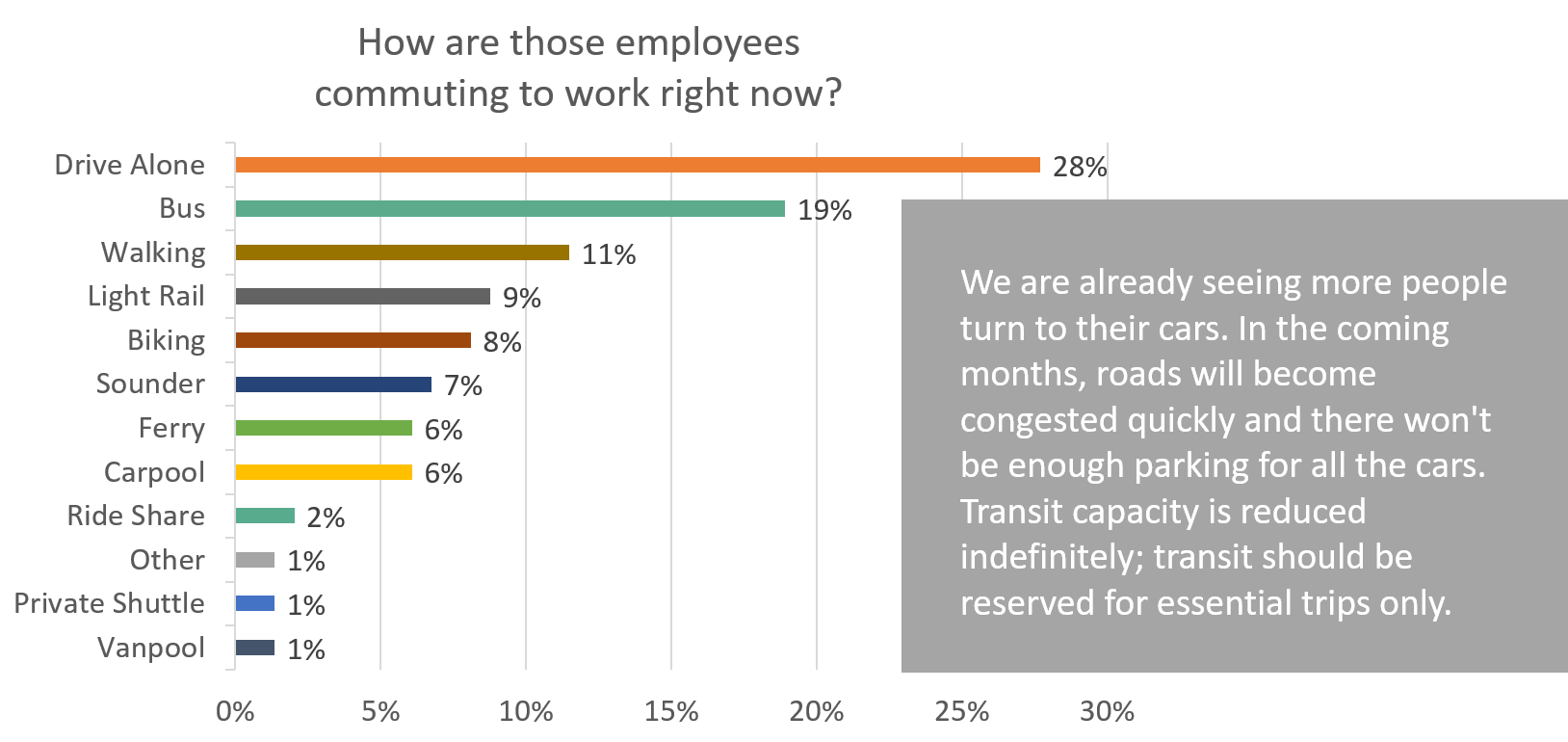 COVID-19 HAS CAUSED WORKPLACES TO SHUT DOWN SOME OR ALL OPERATIONS, OR OPERATE AT LIMITED CAPACITY
There are a myriad of factors to consider when contemplating a return to work. Workplaces are hungry for up to date information to make informed decisions. Commute Seattle is committed to bringing you knowledge and resources; visit our Commute Connections Online Series to find upcoming events and past recordings.
66% INTEND TO CREATE SOME TYPE OF "RETURN TO WORK" PLAN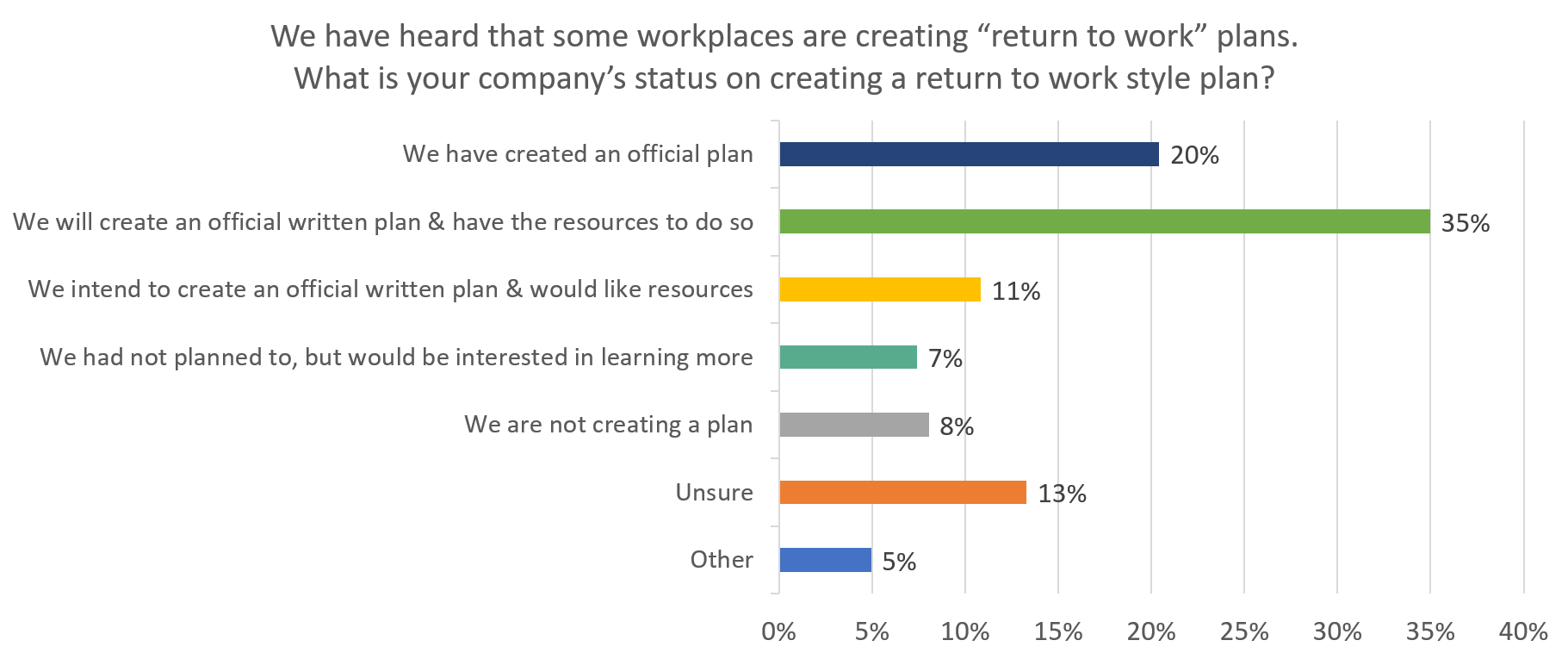 WORKPLACES ARE CONSIDERING ADAPTING BENEFITS TO HELP EMPLOYEES DURING THIS TIME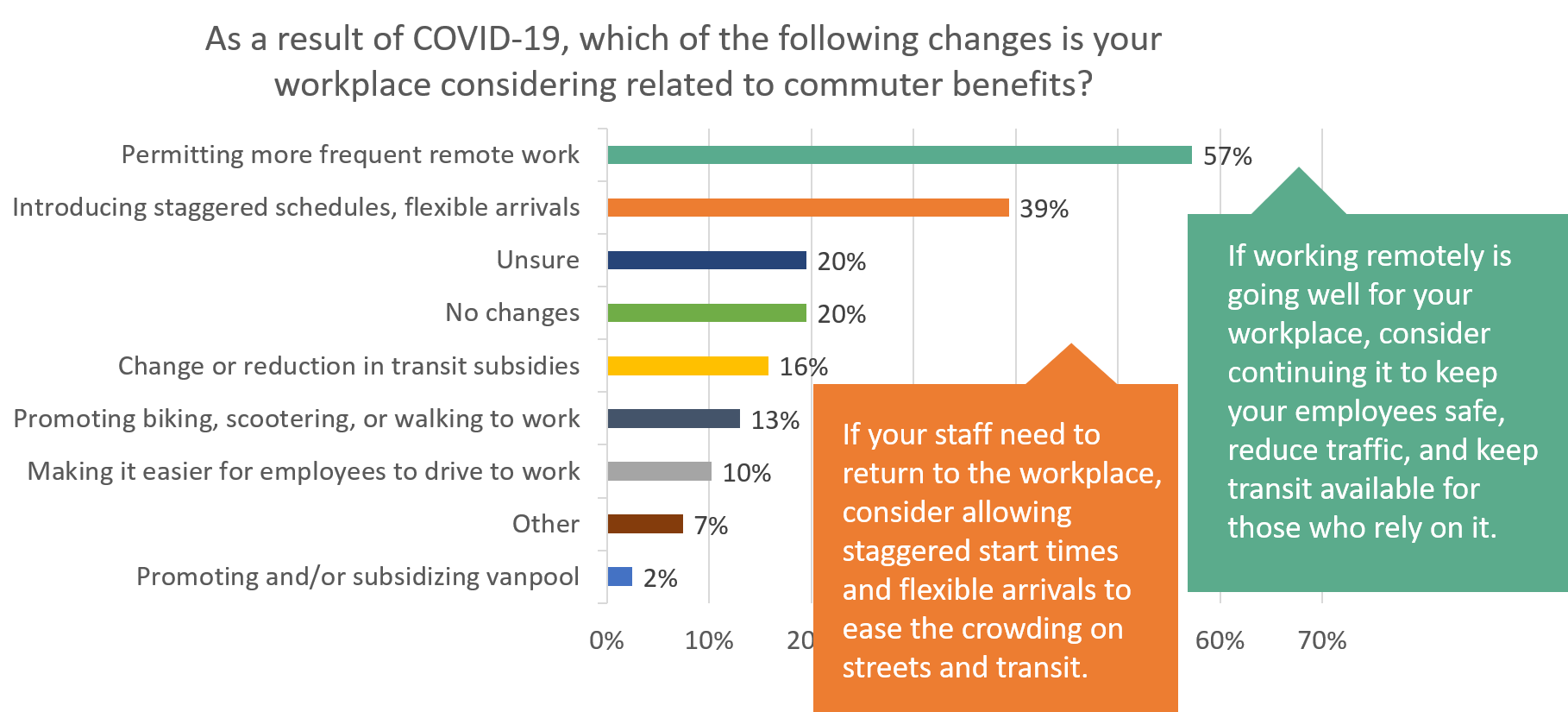 RESPONDENTS IDENTIFIED COUNTLESS FACTORS TO CONSIDER WHEN PLANNING A RETURN TO THE WORKPLACE
Timelines for opening the office:
Open the office in phases
Identify employees who are higher risk, ask them what they are comfortable with
Arriving at the office:
Allow staggered shifts, flexible arrival times
Offer weekend work if possible
Check transit agency information to see if employees will be able to use transit
A/B scheduling, alternating in office days based on seating
Bi-weekly opt-in/opt-out spreadsheets
Temperature checks and plans for if someone is showing symptoms
Signage for reminders, rules, and more – you will need more than you think!
The physical office:
Protocols for elevators, kitchens, bathrooms, clock in stations, other shared spaces
Consider limiting visitors, implementing a locked front door policy
Install barriers between desks, change arrangement of desks to ensure 6+ feet
Conference room limits and cleaning protocols
New standards for lunch/break rooms, print/copy rooms
Addition of hygiene stations, bulk order PPE
ASK YOURSELF & LEADERSHIP:
• WHAT IS THE ADDED VALUE OF ENTERING THE OFFICE RIGHT NOW?
• DOES THAT VALUE EXCEED THE ADDED RISK & CHALLENGES OF OPENING THE WORKPLACE?