As part of National Volunteer Week, the Association for Commuter Transportation (ACT) celebrated its member volunteers. The premier organization for Transportation Demand Management (TDM) honored Olivia Holden as an outstanding member volunteer. Olivia noted her experience: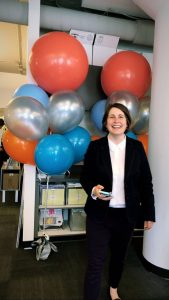 "Volunteering for ACT over the last 2 years has been an overwhelmingly positive experience. Specifically, vice-chairing the ACT TMA Council allows me to interact and meet TDM experts around the county. The biggest bonus to volunteering with ACT is the ability to influence TDM programs on an international scale and see partnerships establish in front of your eyes. It's truly fruitful work for a community I care deeply about."

Olivia started following ACT in 2016 while working at the Campus Planning Office at Portland State University. This was her first of many introductions to TDM. Since then she volunteers her time to support the ACT TMA Council with survey analysis, web development, and hosting quarterly webinars. Olivia has been with Commute Seattle since June 2018 and was recently promoted to a Senior Program Manager in March 2020. Olivia now oversees the Commute Trip Reduction and Transportation Management Program team and leads Commute Seattle's fee-for-service consulting.
Commute Seattle values our ACT membership providing our staff opportunities to learn skills and TDM knowledge. In fact, Commute Seattle recently expanded its membership to all staff. We are attending the ACT Emerging Mobility Summit this week and Commute Seattle proposals were also accepted to present at the upcoming ACT International Conference. Learn more about ACT.