This fall Commute Seattle hosted a flurry of events engaging community members, commuters, and property managers from across the city. At Transportation Transformations, we highlighted the major opportunities coming in 2024. Light Up Your Trip helped people get ready for their commutes in the wet and dark season. Destinations Shape the Journey was our annual Transportation Management Program seminar for property managers and Building Transportation Coordinators.
Thank you to everyone who joined us for one of these events. Read on for a recap of each, and join us at a Commute Seattle event in 2024!
Transportation Transformations
We kicked off a busy month of events on November 1st with Transportation Transformations, our annual event looking forward to the next year in transportation. This year, we gathered at the University of Washington Alumni Commons at the base of UW Tower, in the heart of a neighborhood that showcases transportation's transformative potential. Across the street from the University District light rail station, surrounded by new towers built to accomodate growth near transit, attendees learned about the major opportunities coming in 2024.
Sound Transit CEO Julie Timm highlighted the upcoming openings of both the East Link starter line and Lynnwood Link, which will add 12 new stations to our light rail network next year. UW's Vice President of External Affairs Randy Hodgins spoke about the importance of transportation to the University and how UW achieved a remarkable 14% drive-alone rate. Our Executive Director Kirk Hovenkotter shared highlights from Commute Seattle's past year, and SDOT's TDM Lead Matthew Trecha noted the progress we've made together, and invited guests to engage with the Seattle Transportation Plan.
Thank you to Commute with Enterprise for sponsoring Transportation Transformations.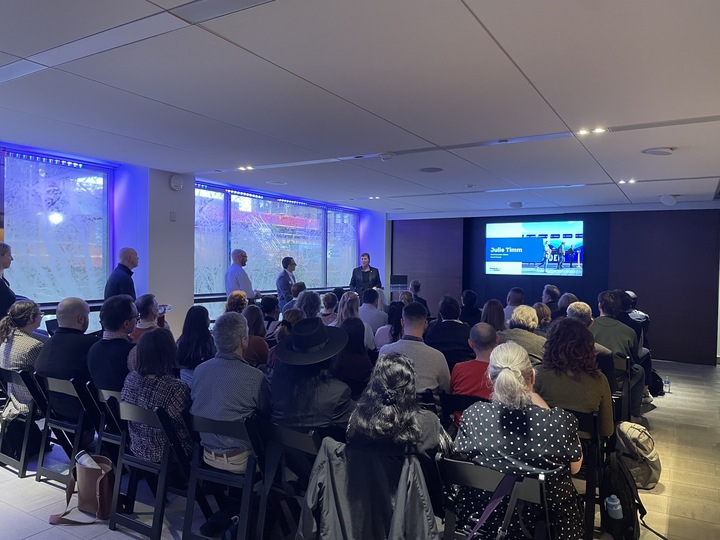 Light Up Your Trip
On November 8th, Commute Seattle hosted our annual Light Up Your Trip event to celebrate safe winter commutes. This year, we welcomed afternoon commuters at Occidental Square. Attendees were able to enjoy the sun and eat edible cookie dough and ice cream desserts from the Sugar + Spoon food truck. Our event partners SDOT, Sound Transit, King Couty Metro, Veo, and Superpedestrian joined us to help people adjust to earlier sunsets with bike lights, maps, free helmets, bike gear, and reflective gear. Our partners shared upcoming programs and projects and attendees were able to have e-scooter test rides. We had about 200 people attend and even had a guest appearance in Best Side Cycling's video.
As the days grow darker, it is important to reiterate that it is the responsibility of drivers to drive with care and look out for pedestrians and cyclists on roads, sidewalks, and intersections. Staying visible with lights and reflective gear is an important step that active commuters can take to keep safe and keep moving throughout the year!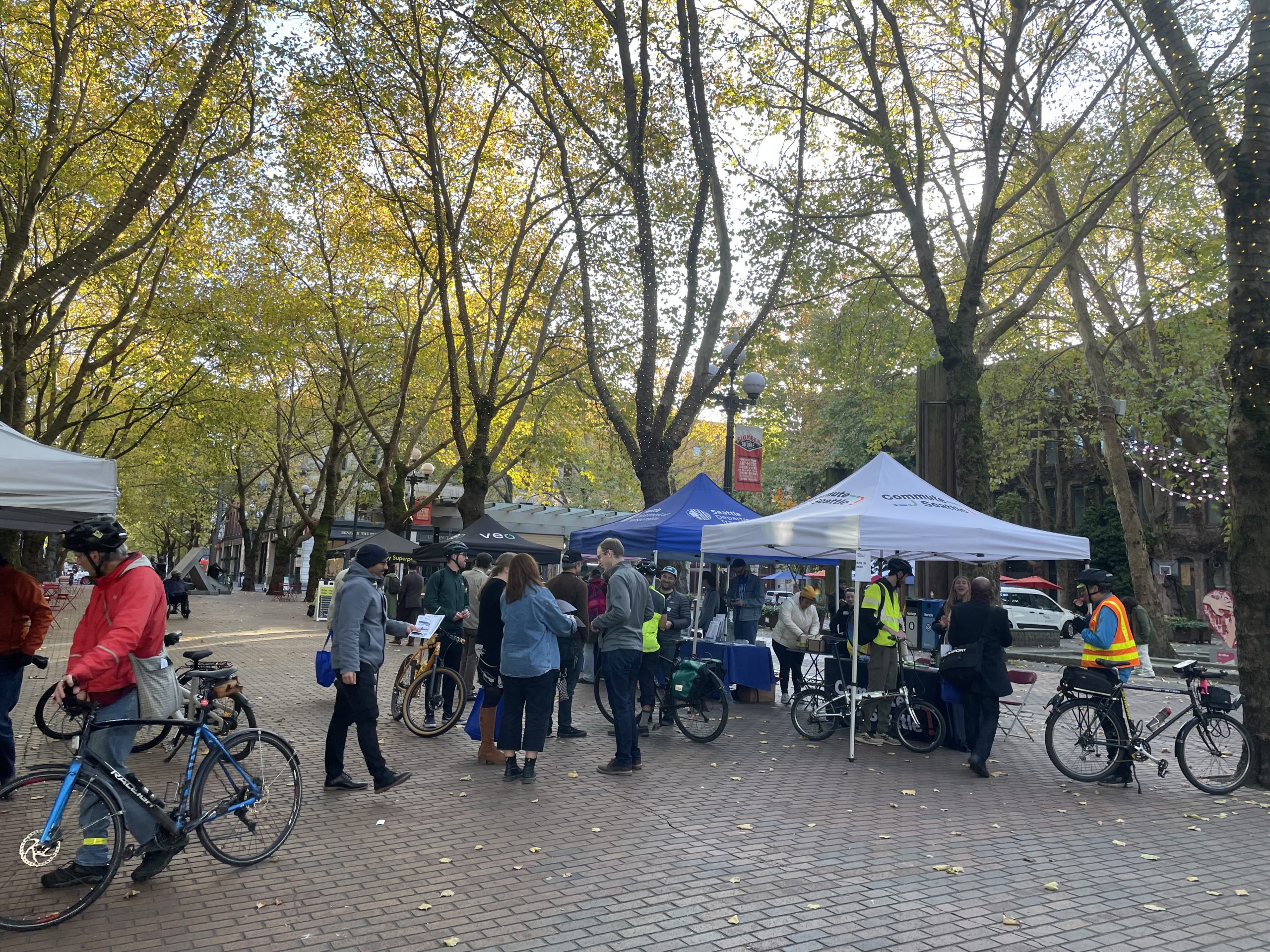 Destinations Shape the Journey
On Thursday, November 9th, Commute Seattle hosted our annual Transportation Management Program (TMP) event, Destinations Shape the Journey: How Your Building's TMP Impacts How People Get Around. We gathered around 40 property managers and building transportation coordinators to connect, learn about investments in buildings to reduce emissions and why encouraging active modes of transportation is key to a more equitable Puget Sound. We would, once again, like to thank our sponsors and speakers: SDOT, Clise Properties, Hallcon, BOMA, and Seattle 2030 District. With the help of our trusted partners, attendees received insights into Seattle's commute trends to TMP buildings and assistance for building-level electrification incentives in Seattle. Look out for our next TMP event in Spring 2024!
Learn More: Financial Support for Reducing Building Emissions
Thank you to Hallcon for sponsoring Destinations Shape the Journey.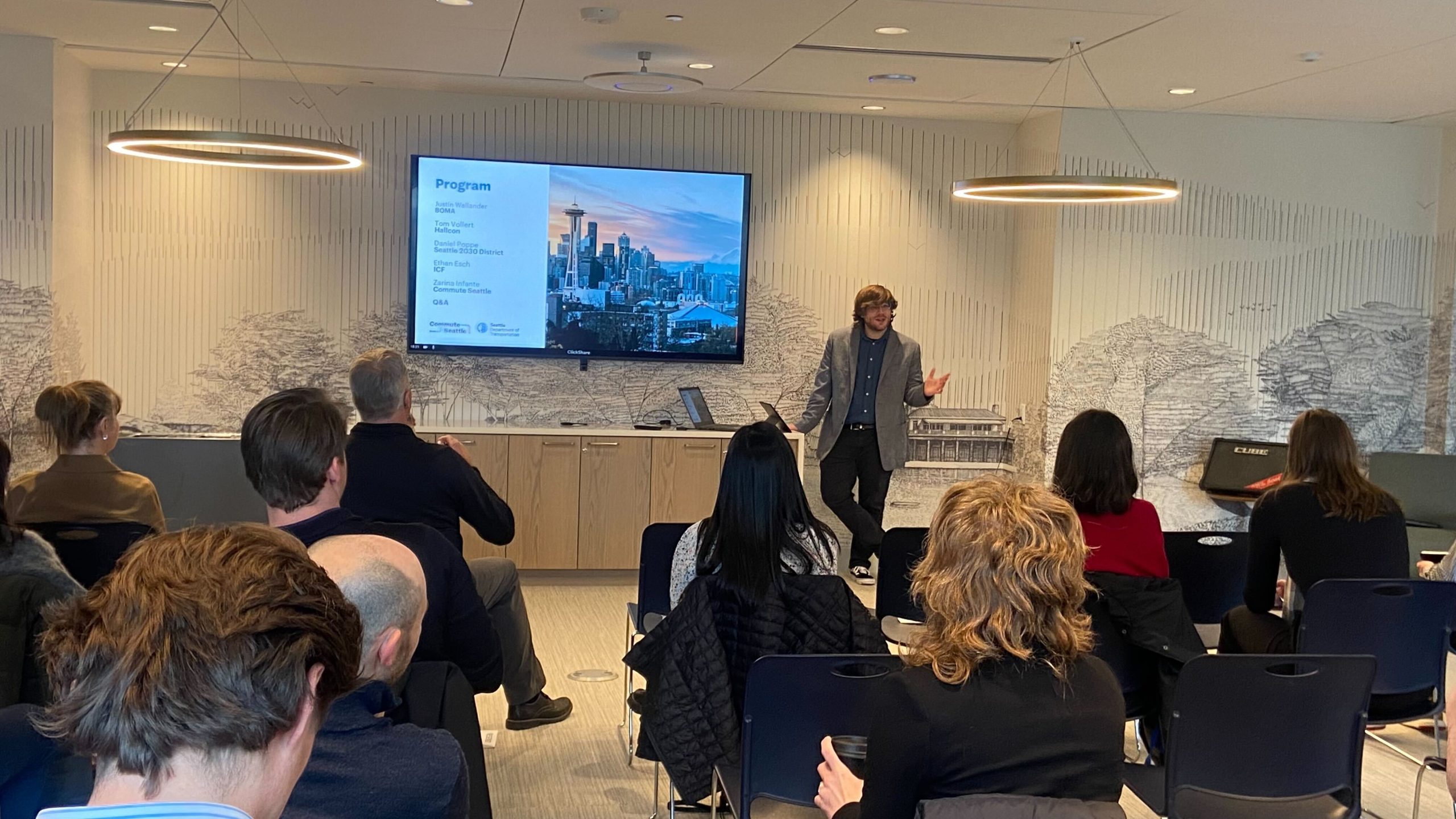 Join us again in 2024!
Sign up for our newsletter to hear about Commute Seattle events first!