More than any time this century, how you commute to and through Seattle reveals much about your salary, what type of job you work, whether you have dependents, and what type of home you live in. Our 2022 Seattle Commute Survey (formerly "Center City Mode Split Survey") is a snapshot of how people get to the places they need to go as we continue to emerge from the pandemic.
Every other year, the Seattle Commute Survey helps us understand how people get around Seattle. The survey goes out to people who work within the City of Seattle. In Fall 2022, we received over 64,000 survey responses, meaning we heard from one out of ten people who work in Seattle. Thank you to everyone who shared their stories with us!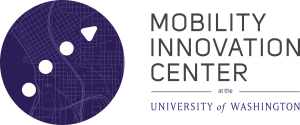 The survey was administered through a partnership between Commute Seattle, the Mobility Innovation Center at the University of Washington, and Challenge Seattle, with integral support from the Seattle Department of Transportation (SDOT) and the Washington State Department of Transportation (WSDOT). The pandemic brought big changes to how people get around the city for work, errands, and leisure. With this in mind, we worked as a team to ask questions that went beyond previous iterations of the survey to get a better picture of how (and why) people choose to walk, bike, ride or drive.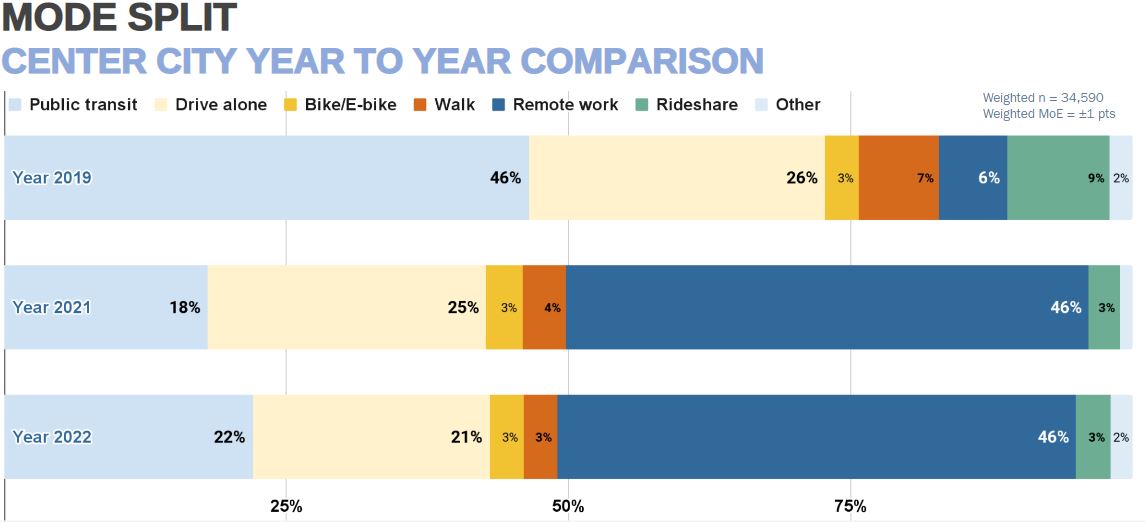 New in this year's survey:
• Data from workplaces across the city, not just Central Seattle

• Data on how people travel for different trips, not just from home to work
• Data on demographics, including race/ethnicity, housing, gender, income, children and/or dependents
What lessons can we take away from the findings? Several new insights stand out. Click to see more:
People work in person more on Tuesday, Wednesday & Thursday.
Busier buses, cafes, and roads in the middle of the week aren't just in your head. Monday and Friday are far different than Tuesday, Wednesday, and Thursday. At workplaces across the city, 52% of people telework on Monday while 57% of people do so on Friday. That drops to 39% on Tuesday and Wednesday, and 41% on Thursday. More people take transit, bike, walk, and drive alone in the middle of the week.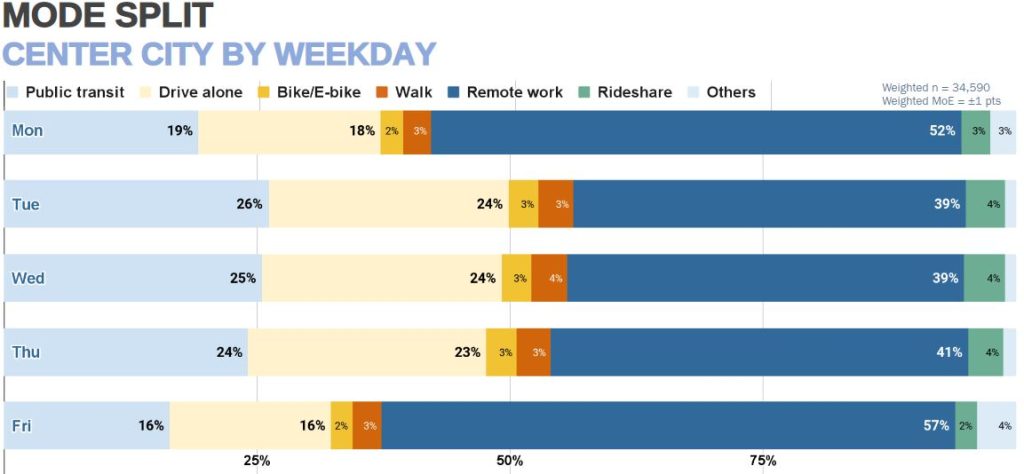 Childcare needs shape how we get around.
After time and convenience, the third highest reason shared for why people drive alone to work is childcare needs. Respondents with children or adult dependents were more likely to drive alone to work than respondents without dependents. If we can make it easier to get to childcare by walking, biking, and transit, we can make it easier to get to work using those travel options, as well.

Workers in Central Seattle are more likely to take transit & telework.
On average, 19% of people drove alone to work at large employers in Central Seattle, compared to 40% of people who drove alone to work at large employers outside of the Center City. (Large employers are defined as those affected by the Commute Trip Reduction law or CTR). Transit use to workplaces in Central Seattle jumped. Walking to work is slightly more common in Central Seattle, while biking is more common in workplaces in North and South Seattle.

The home you live in says a lot about how you get around.
Housing and transportation are two sides of the same coin. People who live in apartments and condos are more likely to walk, bike, and take transit, and are less likely to telework. One out of ten people who live in apartments walk to work, according to the survey results. People who live in single-detached housing are more likely to telework or drive to work. Building more housing in walkable, transit-rich places is key to meeting our shared goals.

Driving alone to work in Central Seattle is at a low.
One out of five people who work in Central Seattle get there by driving, compared to one out of three people ten years ago in 2012.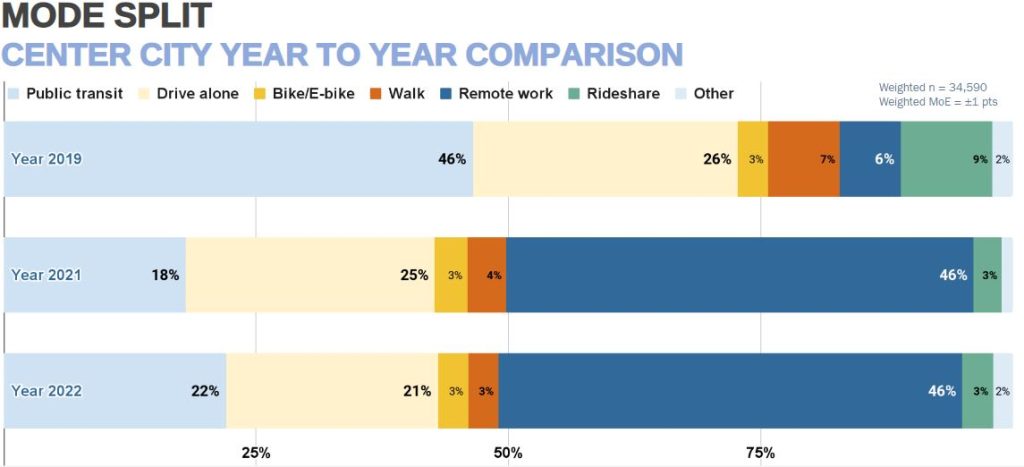 Seattleites mostly drive to places other than work.
If nearly half of people are teleworking on Mondays and Fridays, then why is traffic nearly as bad as in 2019? And why do the roads seem so busy at midday? That's because over 75% of the trips that Seattleites take to grocery stores, healthcare, and school pick-up and drop-off are done by driving alone. We also take more of these trips in a week than we do from home to work.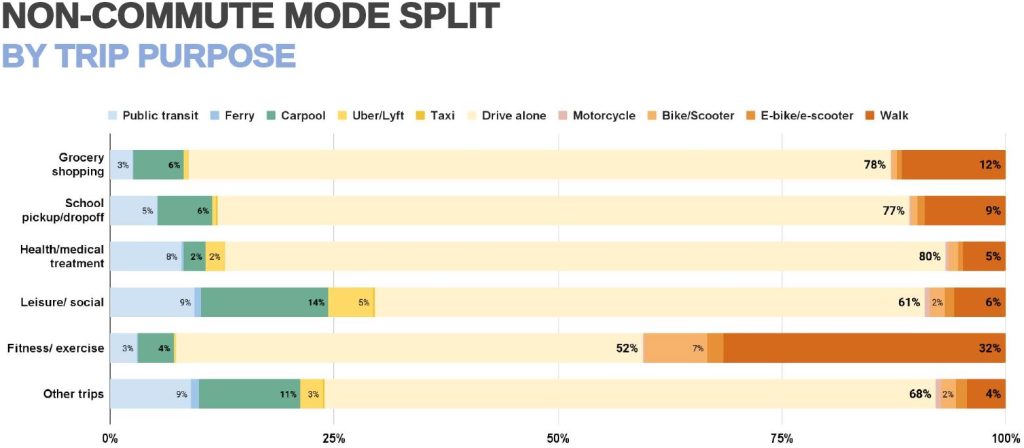 Women are more likely to drive alone or telework. Black, Latino, and Native Hawaiian-Pacific Islanders are less likely to telework.
Women are less likely to take public transit than people who identify as men. Asian and White respondents are the most likely to telework. White respondents were less likely to take public transit than other respondents.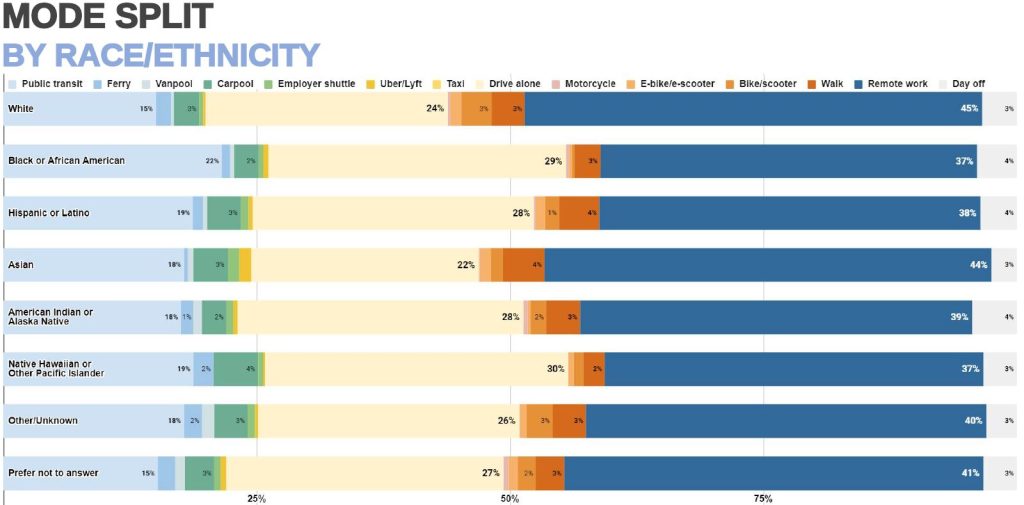 Remote workers are typically higher-income earners.
Households with lower incomes are more likely to commute to in-person work by walking, taking transit and driving. Those with higher incomes are more likely to remote work.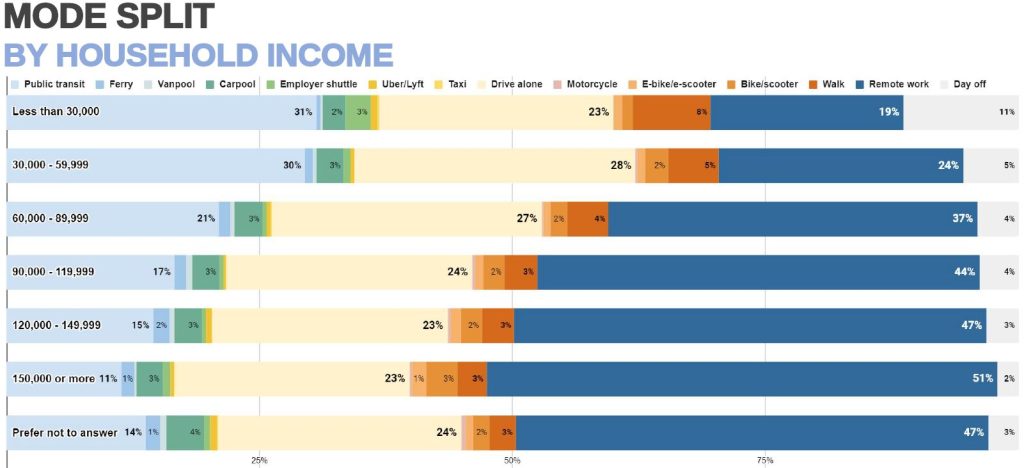 Electric cars are just a fraction of those on the road.
Of those who drive to work, 84% drive a gasoline-powered car to work, 10% drive hybrid electric vehicles, and just 6% drive electric vehicles. The number of electric vehicles is likely to increase, but with 62% of our emissions in Seattle coming from transportation, getting people to drive less is the quickest way to reduce our emissions.
The staff at Commute Seattle is just scratching the surface of the stories from the data. These stories guide our work to make Puget Sound a more affordable, sustainable, and connected region to call home. Stay tuned for more analysis reports this year!
If you would like to learn more or take a closer look at the data, reach out to set up a briefing with the Commute Seattle staff at info@commuteseattle.com.