Downtown Seattle Commute Choices
According to new survey results from Commute Seattle, telework reached an all-time high among downtown Seattle workers in 2019. The Center City Mode Split Survey, conducted biannually, indicates that 6% of downtown employees worked remotely or shifted their schedules to avoid peak-hour commutes, with the total number of these "trip" types tripling since 2010. As many as 14% of workers say they telework at least one day a week.
Similar to prior years, transit remains the most popular way for weekday peak-hour commuters (6 a.m to 9 a.m.) to travel downtown, accounting for nearly half (46%) of trips. This translates to more than 135,000 commuters choosing bus, light rail, commuter rail, streetcar and walk-on ferry trips. The number of transit commuters across these modes is nearly double the number of those who drive alone. Additionally, more than half of commuters (54%) reported taking transit at least once a week. Here is a breakdown of how commuters travel into downtown Seattle.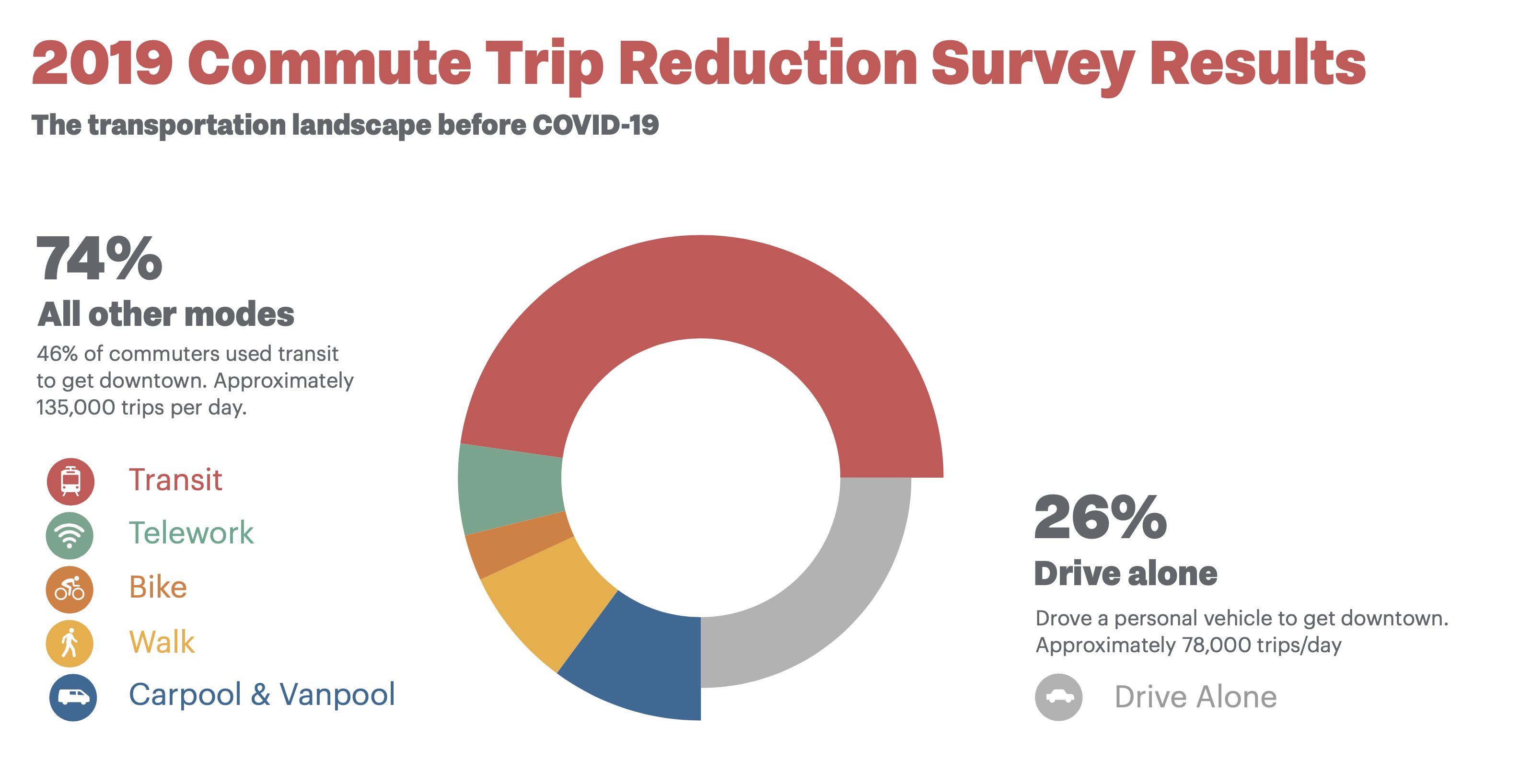 Beating The Squeeze With New Modes
Last year was a historic year in transportation as commuters used multiple modes to beat Seattle Squeeze impacts. One in four commuters shifted their travel patterns over the past year to better navigate this changing landscape. Additionally, the study finds that 36% of commuters use more than one mode of transportation during the work week. These multi-modal commuters primarily choose transit and telework.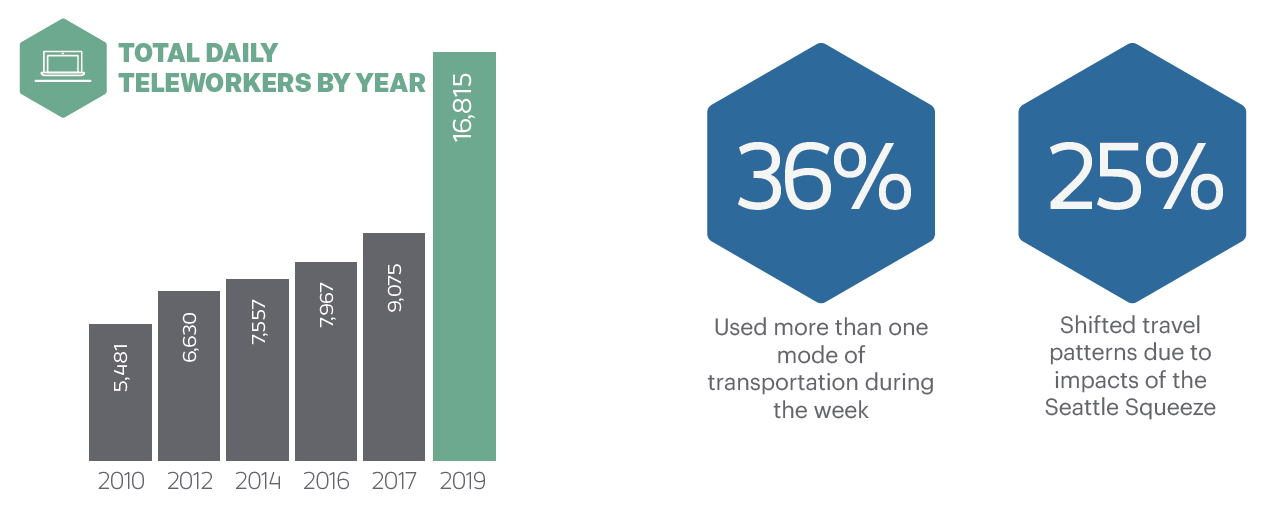 From 2010-2019 center city drive alone commutes increased by approximately 6,000 while all other modes grew by approximately 82,000 commutes. The drive alone rate fell nine percentage points since 2010 while downtown added over 90,000 jobs.
Jobs Up, Drive Alone Down Since 2010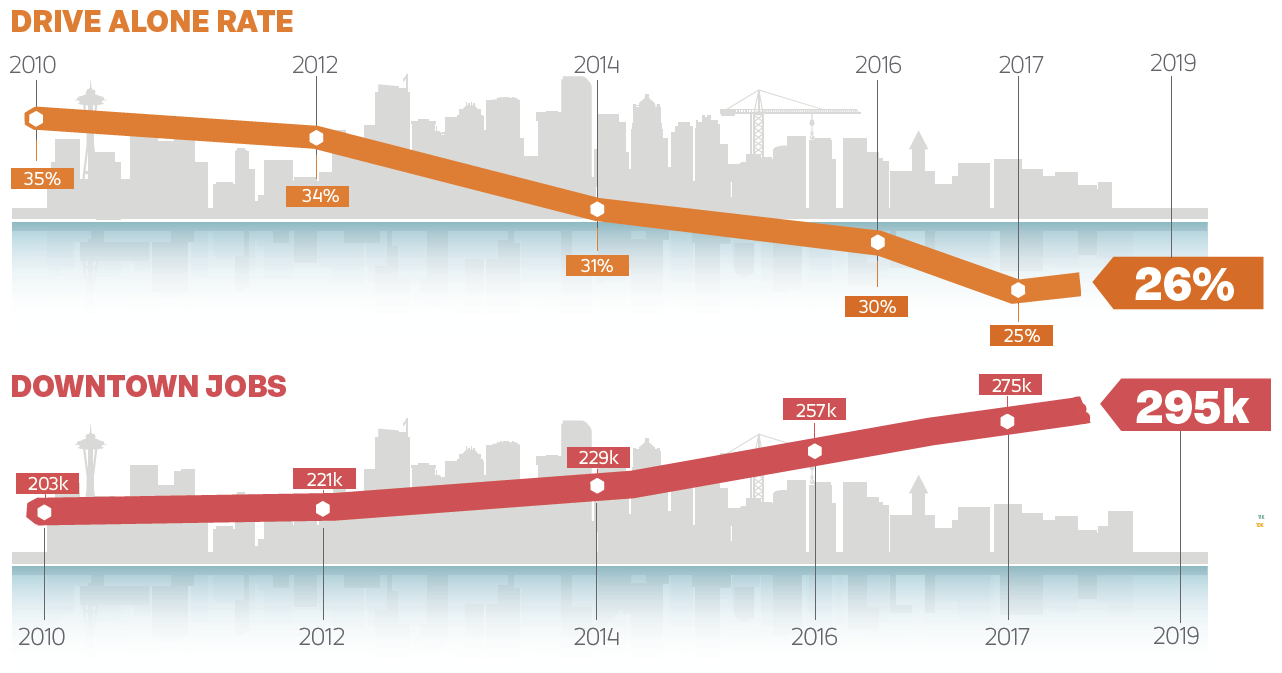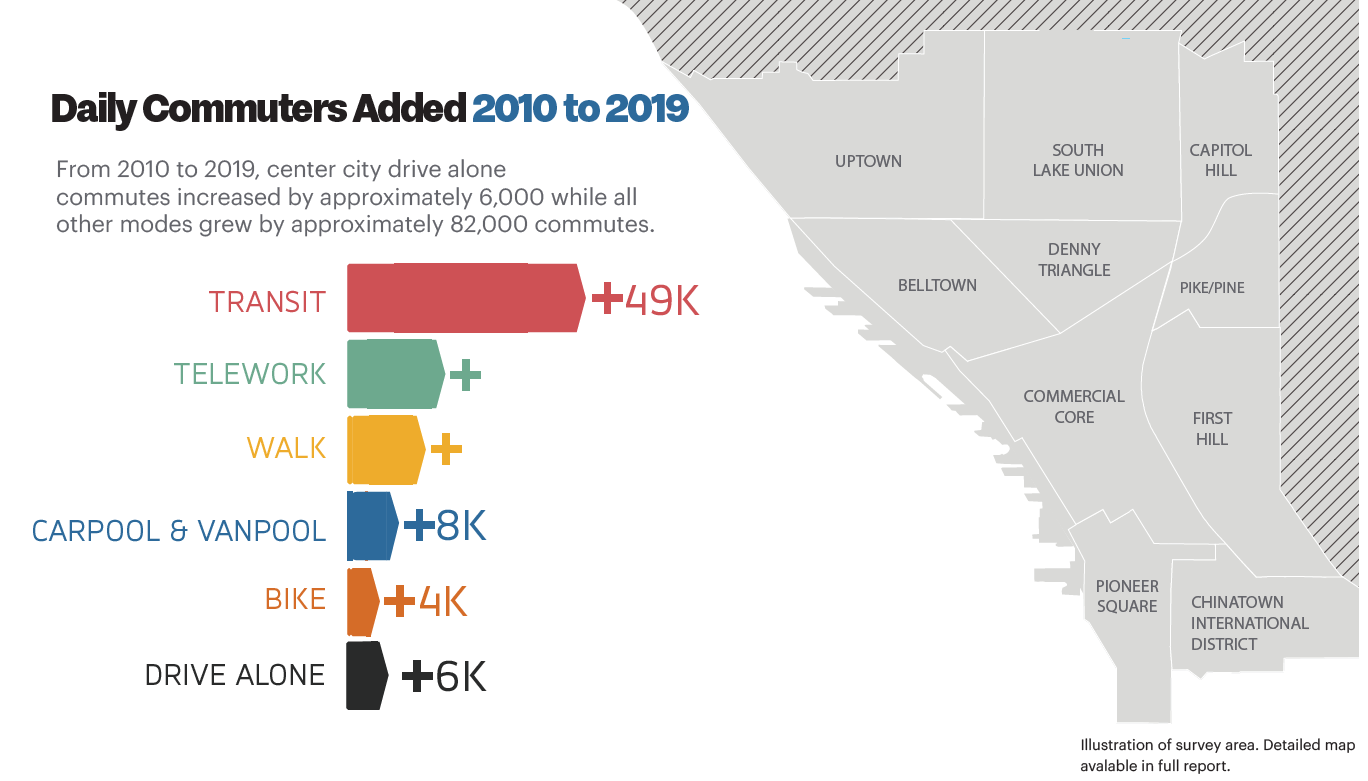 About The Study
The Center City Mode Split Survey is a biannual survey that studies the travel habits of thousands of downtown Seattle commuters across hundreds of small and large companies. The survey has been conducted since 2012, providing detailed insights into commuter trends for transit, single-occupancy-vehicle (SOV), walking, biking, vanpool, carpool, and other modes.
Explore The Report In-Depth
Download our reports, including infographics, the report summary, and talking points.
Previous Mode Split Survey Results
Media Inquiries & Contact info
Please pass a row id or name