How the Dashboard Can Help With COVID-19
This tool paints a picture of how your colleagues traveled to work before the pandemic and by doing so, it can help you prepare for your worksite's current and future commute needs.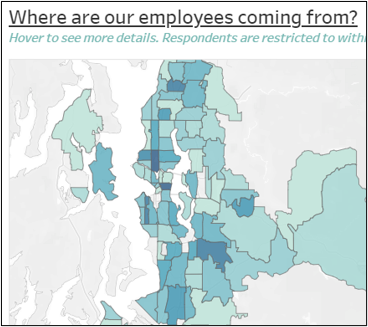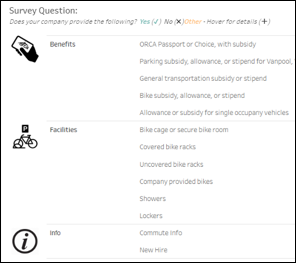 How to Login
Click on the link to open the landing page and paste in your password in the CTR access code (which is provided by us, Commute Seattle) making sure there are no spaces afterwards. You should see icons populate for the Performance Dashboard and the Network Scorecard.
Note: Some accounts that are new the program or haven't completed the CTR requirement may only see one icon populate on the landing page.
Login Credentials: Before logging in you will need to obtain your login credentials. This will be provided by us, Commute Seattle. If you do not have your login credentials please reach out to your designated Transportation Specialist.
Thanks to our mobility partners!
Commute Seattle partnered with Tableau, SDOT and WSDOT to develop this interactive Tableau dashboard. The dashboard utilizes your most recent performance data (from CTR surveys) and program data (from past CTR Program Reports) to create a convenient self-service tool.
Seattle Commute Trip Reduction Heat Map
Looking for more commuting options? We're here to help.
From compliance to benefits, our transportation specialists will get you where you need to go.