Did you know? The transportation sector is one of the largest contributors to greenhouse gas emissions in the United States, and personal vehicles make up nearly 60% of transportation emissions nationwide. Our daily travel choices can significantly influence our overall impact on the environment, and making climate-friendly commute decisions can help lessen our contribution to climate change.
On April 22nd each year, people around the globe celebrate Earth Day to demonstrate support for environmental protections and raise awareness of climate change impacts. This year, Commute Seattle extended the celebration to a monthlong challenge, asking Seattle residents to commit to replacing at least three car trips with climate-friendly commute options.
The Earth Day Challenge was a great success – we had over 500 people pledge to participate! That translates to more than 1,500 fewer car trips in Seattle during the month of April.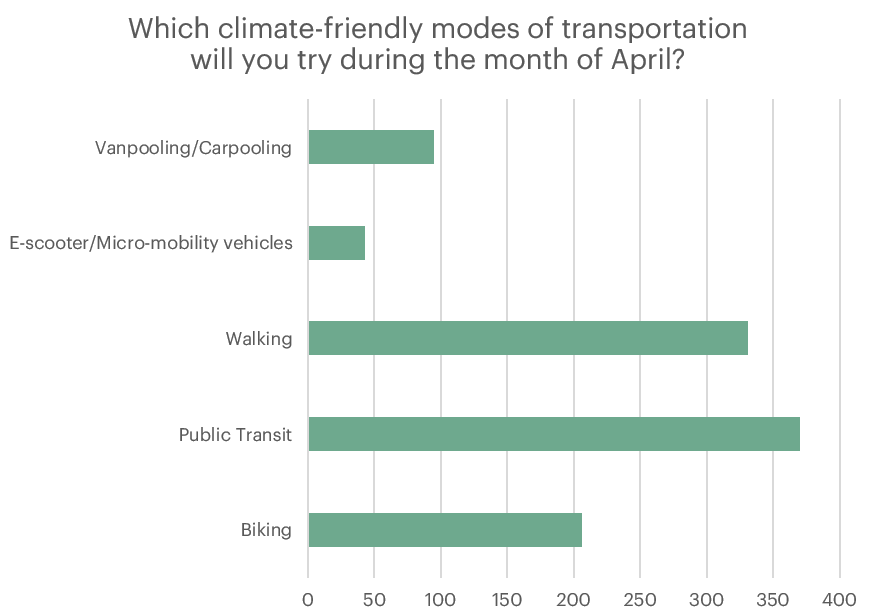 We hope you enjoyed trying new modes during the month of April. Our individual transportation choices can make a real impact on the world around us – we encourage you to spread the word to your friends, family and community, and encourage them to join you in making climate-friendly travel choices year-round!