What is a peloton?
A peloton is a group of people who reduce the amount of drag on the people behind them, essentially helping those that need an extra boost to keep up at the same pace.
What is Peace Peloton?
Peace Peloton is a non-profit organization based in Seattle with a mission of Economic Reform for Black people. Through access, community, and fun they put this mission into action.
Peace Peloton is the vehicle to support and invest in Black livelihoods, communities, and Black-owned businesses and enterprises through organized bicycle rides, community development events, and sustainable economic enrichment programs.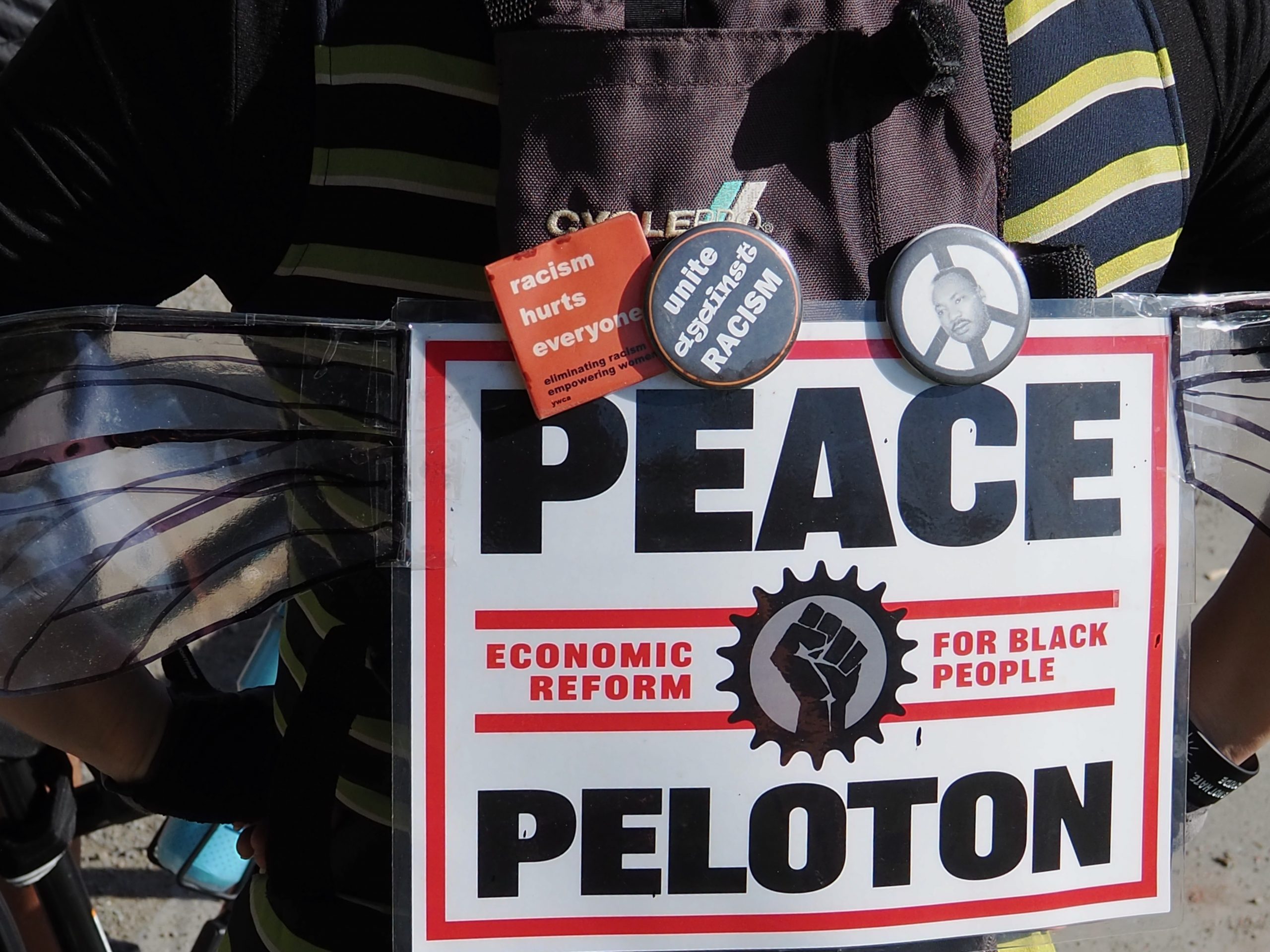 How did it originate?
On June 4, 2020 Ed Ewing and Reginald "Doc" Wilson were on Episode 113 of the Ron and Don Show right around time of the murder of George Floyd. At the end of the show, Doc Wilson announced Peace Peloton as a ride happening that Saturday, June 6, 2020 from Alki to Downtown Seattle to make change and support economic reform for Black people. They thought maybe 20-30 people would show up, but 450 people on bikes met on Alki in West Seattle, fired up and ready to take off. People of all ages, abilities, and backgrounds showed up to ride their bikes to Black-owned businesses, build community, and spend their money. That was the birth of Peace Peloton and their anchor program: Fresh Air rides, which happen two times each month.
Who is the Peace Peloton family?
Peace Peloton is primarily led by people freely offering their time or expertise -people like you! The Peace Peloton family is made up of thought champions looking to leave a legacy for humanity. They offer their Super Power(s) (it is OK to only have one) to advance Peace Peloton's mission and vision. The family is full of life-long learners, doers, bookkeepers, immigrants, optimists, web masters, organizers, artists, and people generally looking to have a little fun. There is a place for everyone in the Peace Peloton Family.
Doc Wilson is the Peace Peloton Executive Director and leads the organization with his Super Power:
"Elevating the vibe to where humans can find a deeper connection between their truth and their place in the world."
And based on my brief exposure to him, I noticed another Super Power of Doc Wilson: transparency.
Doc brings his whole self to Peace Peloton and leads with honesty. He is transparent about the small and scrappy non-profit's mission, vision, and assets. He also has deeper goals identified:
"Mentorship, entrepreneurs of color and growing their businesses, growing community, and creating access."
Doc is upfront and direct on how you can support Peace Peloton: donate, spend your money at Black-owned businesses, volunteer. Doc is dedicated to…
"…establish[ing] a pattern of coming together to create this community and advance the aims of economic reform for Black people on a consistent basis."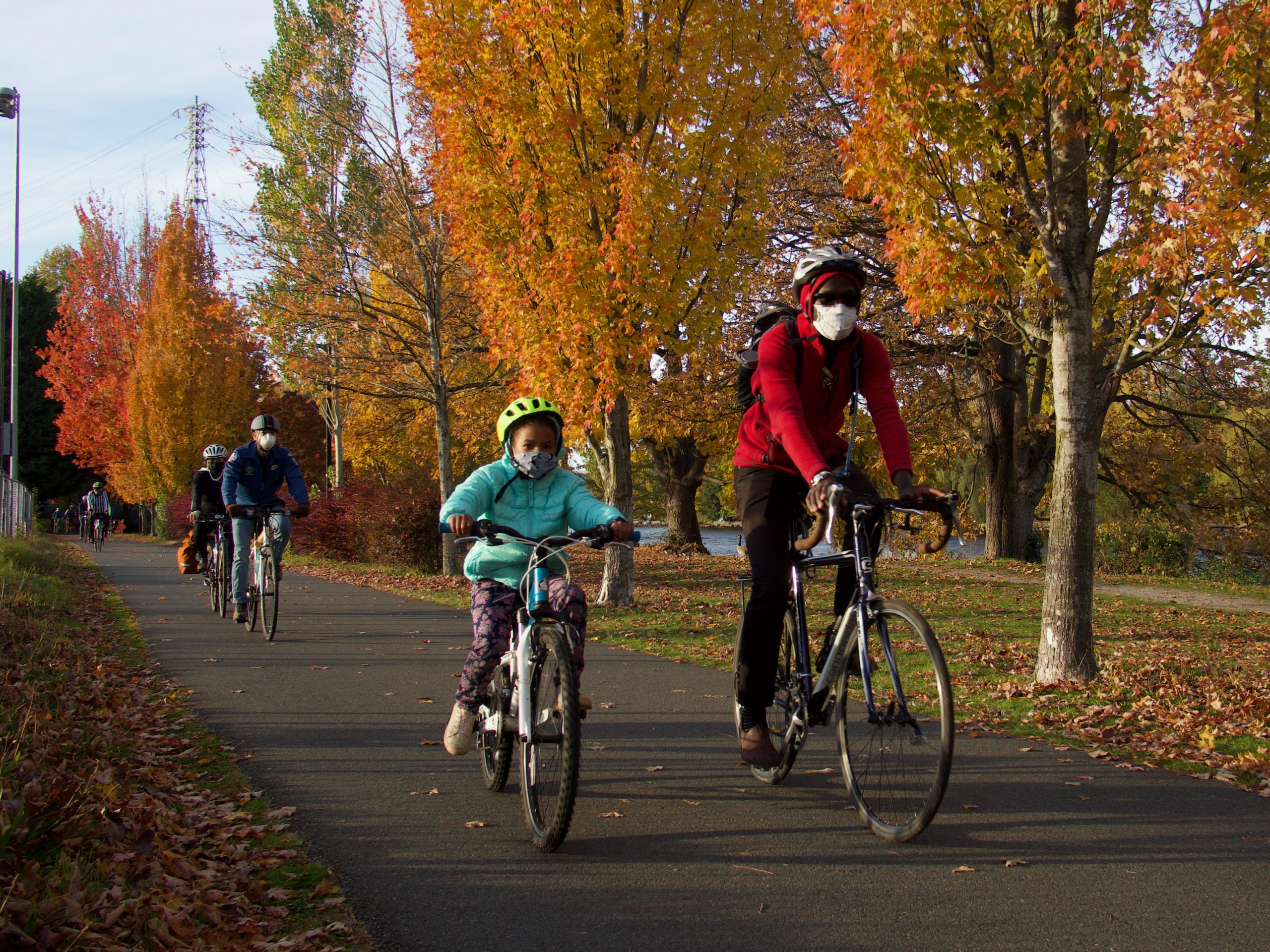 Why bikes?
As Doc said in this article in the Seattle Met magazine, "…when you see people on bicycles riding down the street, you don't fear for your life. You cheer for them." In Commute Seattle's case, you join them! Peace Peloton uses bikes as the tool to get people excited about Economic Reform for Black people. Bikes are fun. Bikes are irresistible.
How can you make an impact?
It is quite simple. Healthy finances = healthy living. Support Black-owned businesses, seek out their services, and mitigate the 'societal drag' of systemic racism.
"Can a united peaceful group reduce the societal drag of systemic racism on those that are impacted the most?"

– Charles Anselm at the Fresh Air ride in Rainer Beach on Saturday September 19, 2020
Join Commute Seattle by rolling into a Black owned business, spending your money there, and making it a perpetual habit. Peace Peloton makes it easy with organized events:
Two times per month (and now in other cities!) Peace Peloton organizes a critical mass of consumers on bicycles to Black-owned businesses. Working with the business partners, Peace Peloton identifies strategies to maximize profit-margins and encourage ongoing patronage.
When:
Twice per month, typically Saturdays. Stay updated by visiting com/Programs
Upcoming: May 8th @ Myrtle Edwards Park (3130 Alaskan Way) to Umami Kushi (9099 Seward Park Ave S)
Upcoming: May 29th @ TBD to TBD
Explore the talents and creations of Black artisans and crafts persons at the Peace Peloton Makers' Markets!
When:
Third Saturday of every month in Columbia City from 3 to 7 PM on 37th Avenue South between South Hudson and South Ferdinand.
Upcoming: May 15th
Third Wednesday of every month at Tougo Coffee in Yesler Terrace (860 East Yesler Way) from 3 to 7 PM
Upcoming: May 19th
Peace Peloton Passport Program
Be intentional about supporting Black-owned businesses and get a Peace Peloton Passport at one of the upcoming Makers' Markets. As you visit Black-owned businesses and fill up your Passport, you can win Peace Peloton swag and other prizes!
In my opinion, the best thing about Peace Peloton is the irreversible momentum it instills. The Fresh Air ride finishing at Jones BBQ and West Seattle Brewing on February 27th was so fun and successful, the businesses wanted to do it every month! Don't forget your Peace Peloton Passport!
When:
In partnership with Peace Peloton, you can now get BBQ, Bikes & Beers every third Thursday of the month from 4 to 8 PM
Upcoming: May 20th
Business Catalyst Program
Peace Peloton offers start-ups and new entrepreneurs access to business resources like job creation, idea mapping, planning, consulting marketing, and mentorship. Ultimately, the goal is to create and empower entrepreneurship that increase the amount of time dollars remain in Black communities.
Equity and Inclusion Program
Take advantage of Peace Pelotons services and help Black professionals thrive. Invest your company's Talent Acquisition, DEI & Anti-Racism and benefit your bottom line by designing a highly inclusive environment.
Where to start? Get to know the Peace Peloton Business Partners.
One easy first step is to get familiar with Black-owned businesses and their services. Peace Peloton makes it easy with a monthly feature, directory, and map! Visit PeacePeloton.com/Business-Partners to learn more.
Stay tuned for more partner spotlights this Bike Month!